Today is a fantastic day. It is my best friends 30th birthday and I love her to death and wish that I was in Sweden celebrating her right now. Unfortunately given that she is a 24h flight away she will have to wait until May for a proper champagne flow and hug 😛 I just want her to know that I love her and wish her all the best on this very important day of her life! Below some sweet sweet memories from Brannbollsyran 2007. This year will be every bit as magical as that one was!
btw, love the chest hair.
But apparently this is also a day of reflection, because as always with birthdays, the fact of the matter is that it does remind you about getting older, about time that has passed and memories of a long lost youth (or something along those lines). Because it gets you thinking, I thought that by the time I finished my first undergrad degree I would know what I want in life and what I am supposed to become. Then that did not happen so I figured I would know by the time I turned 25 years. Then that did not happen either so I got married, decided to quit my job and go traveling for 8 months to find myself. That led to the decision of moving to Australia to get ANOTHER undergrad degree. I figured, heck after THAT one I surely must have my life figured out. I did not figure it out but I had some kids and struggled a bit with immigration and… then thought that I will just roll with it and by the time I turn 30 years surely it will all work out.
Well, I have turned the magical 30 years and I STILL DO NOT KNOW WHAT I WANT TO BE WHEN I GROW UP OR ON WHICH CONTINENT I WANT TO LIVE!!! Can you believe that? I am still at loss regarding what the plan of my life is supposed to be. But today I read a post I wrote on Facebook in 2008:
'Everything is shit. Uni is shit, my future will be shit, my student guidance counselor is shit. I have no idea what I should do and I just feel like a 5 yr old who just wants mom and dad to come here and sort everything out for me. The way it used to be when you were little and made a bad decision. But of course at the time, I did not know that the decision would be bad.'
And it got me thinking of how far I have actually come and that my 'little' move from Umea to Gothenburg probably laid the ground work for the 'big' move from Sweden to Australia. And I just want to give that little 23 year old a hug and say: cry it out and move on because there are no bad decisions really, there are no regrets in life. We have but one life to live and everything we do, good or bad, is part of it. Every 'mistake' is a lesson learned, every experience is something that leads you onto your path and into your next adventure. And the older I get the more I realize that you probably just never know for sure, you just do something and hope for the best and just try stopping once in a while to enjoy the ride. Because it is pretty amazing most of the time…
So I am going to continue enjoying the blessed moments and stop obsessing about the future and what may or may not come to pass. I guess bloody Elsa from Frozen really does know what she is talking about, just LET IT GO. Wow, maybe I have finally grown up after all?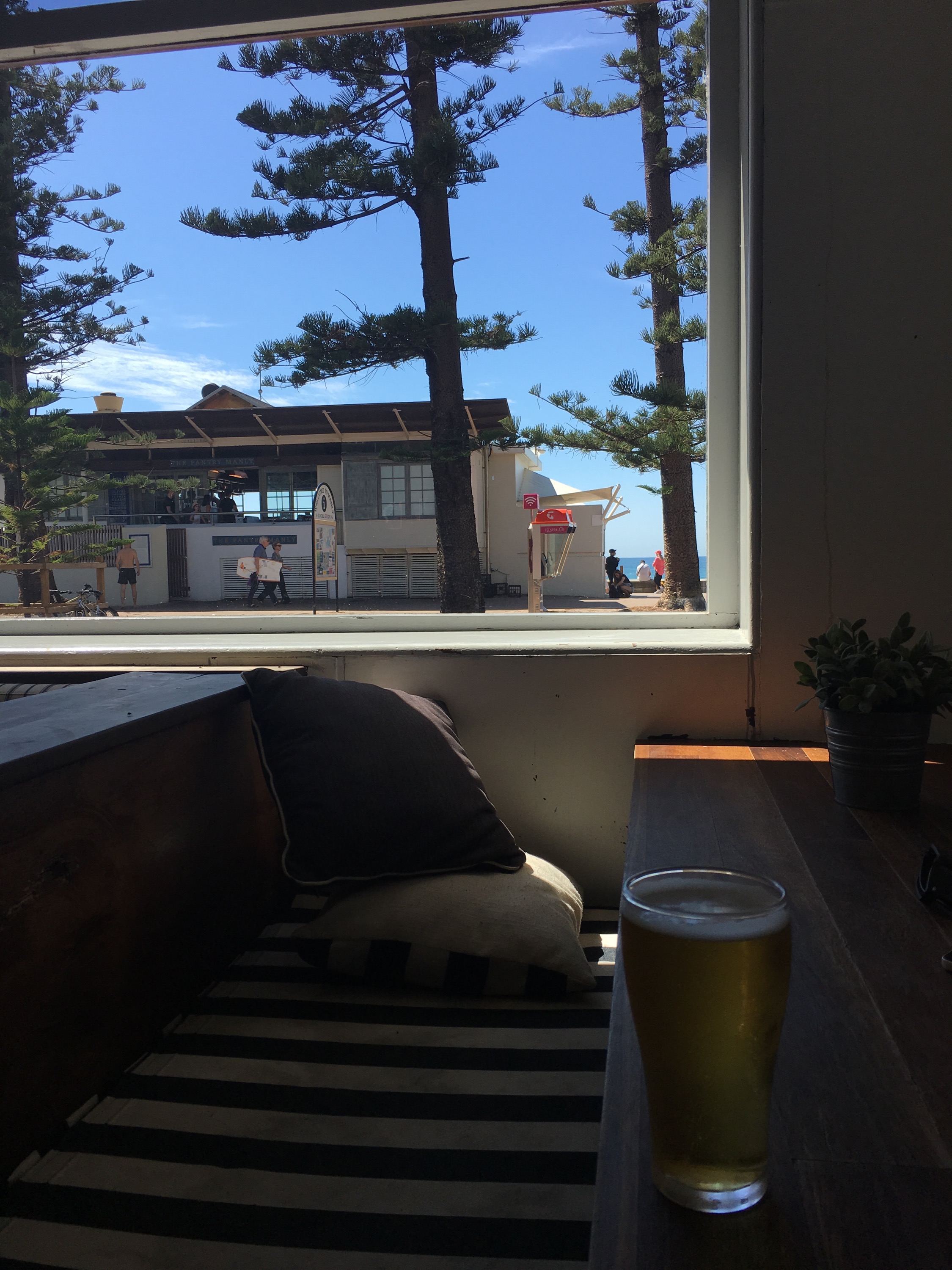 A beer at Hotel Steyne is always the right thing to do.
Manly beach wharf side. Never get tired of this view.
If case Manly beach wharf side feels like old news, Shelly beach always works.