I cannot believe it. It's 2016 and there are 4 members of our family. And what is even worse is that it is END OF MARCH!! A quarter of this new year has already passed and I still feel like I am well, not really getting anywhere, the to do list does not become shorter and all of a sudden things that were far in the future seem way too close for comfort. But I guess that is life and I have definitely decided that this year I will roll with it. Last year was filled with stress and anxiety from time to time so this year I will try to be more YOLO and have faith in the universe that things work out for the best.
So what has happened since last time we spoke? Well we had a baby boy, I finally got my 457 sponsorship visa (say hello to the Hostel Manager of Eva's Backpackers), we had visitors Claes parents and then my dearest sister Zuzanna with a girlfriend of hers and we did so much fun stuff. Also we made some new friends, actually all of us and of course I went for the second round of unpaid parental leave 😛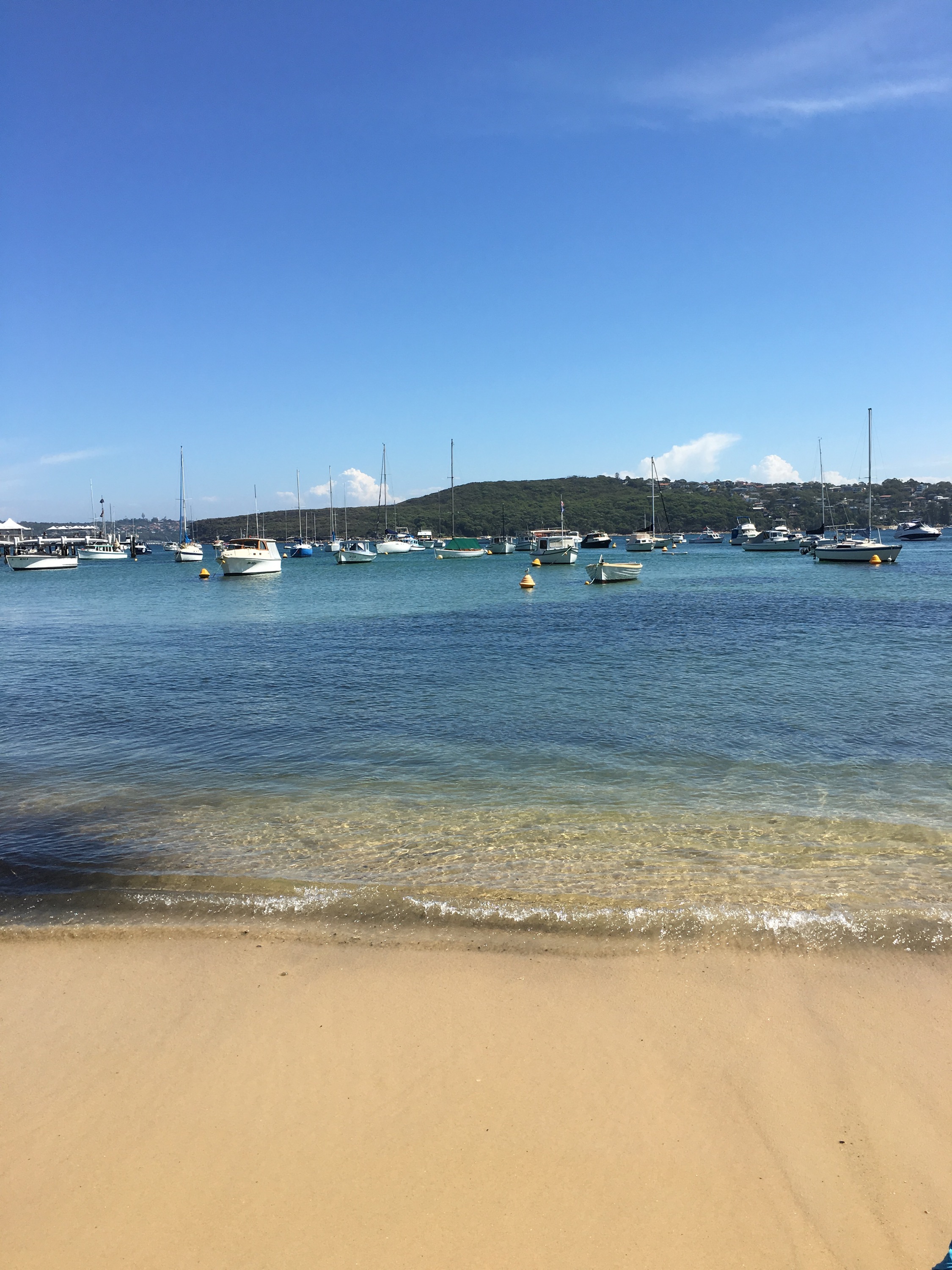 Which when everything comes down to it is not half bad as it has been mostly spent at the East Esplanade Beach or Manly Beach Wharfside as in the above picture, which with 30+ and a sleeping infant is really really nice. Best unpaid parental leave in the world I'd say.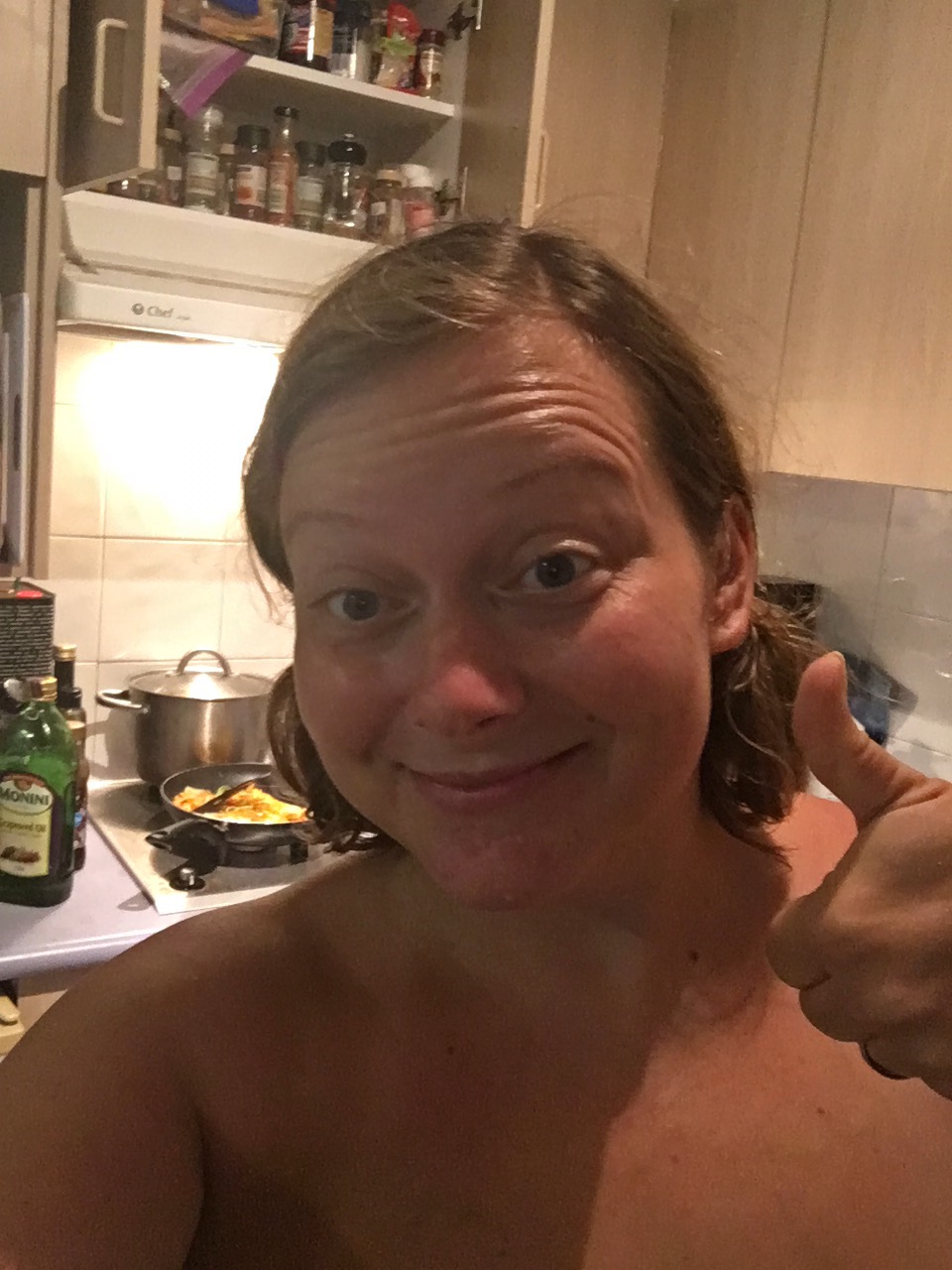 You might think that this is an episode of the naked chef, it is not. It is just surviving the 2-kid-chock and trying to figure out the logistics of being the housewife with 2 crazy kiddos. Some strange situations are bound to come to pass with 2 kids under 3 yrs.
I also made a comeback to the gym, had just finished my first 4 week program with great success when I had some more physical issues, more about that later. But at least here is a post gym selfie ;P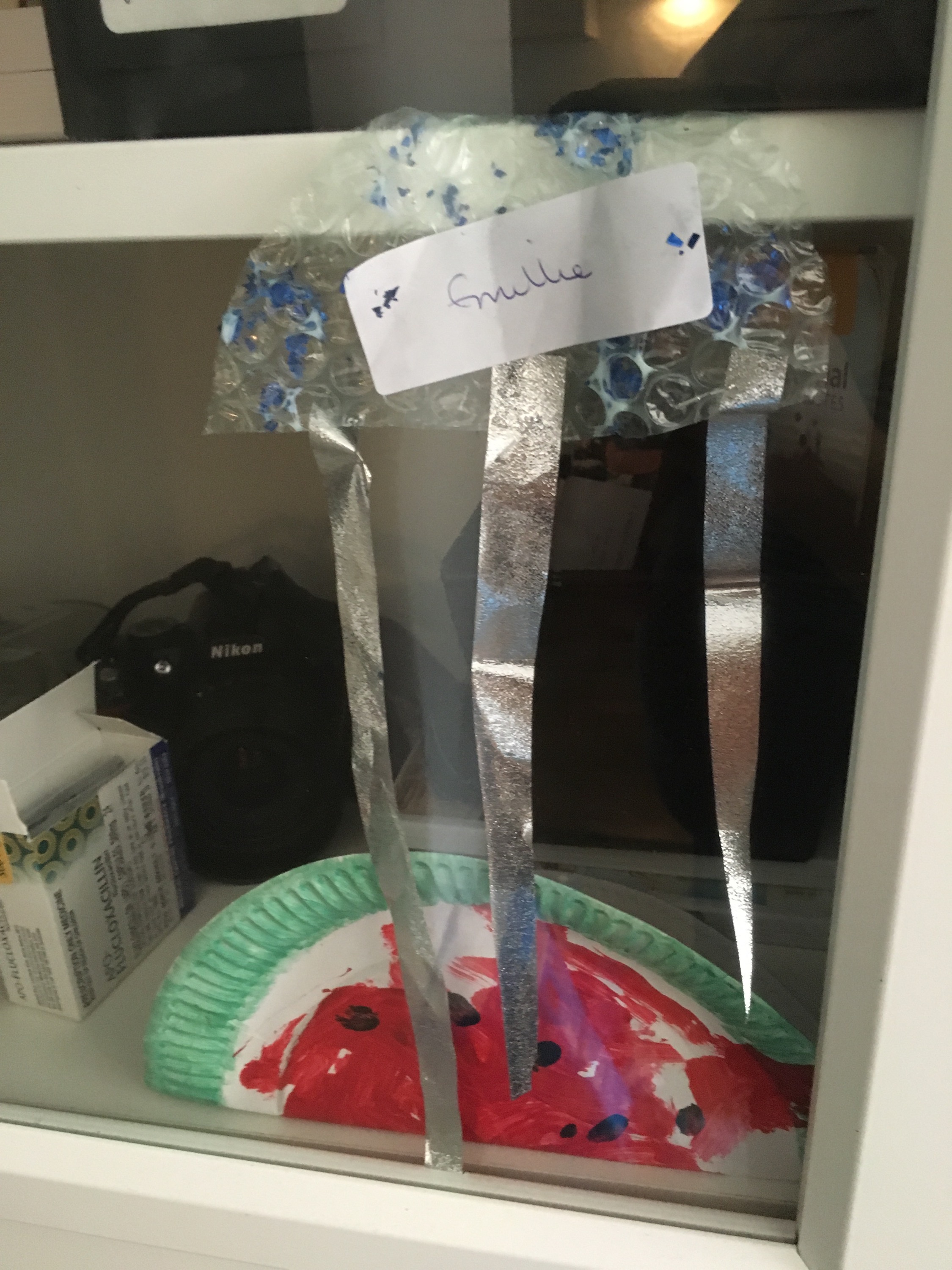 Also E started kindy and went a few times. Above is proof of a very skilled crafter. A watermelon and a jellyfish, or is it a bluebottle? Either way both very good themes for summer. Kindy has been great, E even started saying bye bye and thank you in english (she also mixes in some other words from time to time like seven and pink for some reason – I am sure there is a logical explanation for it all ;P).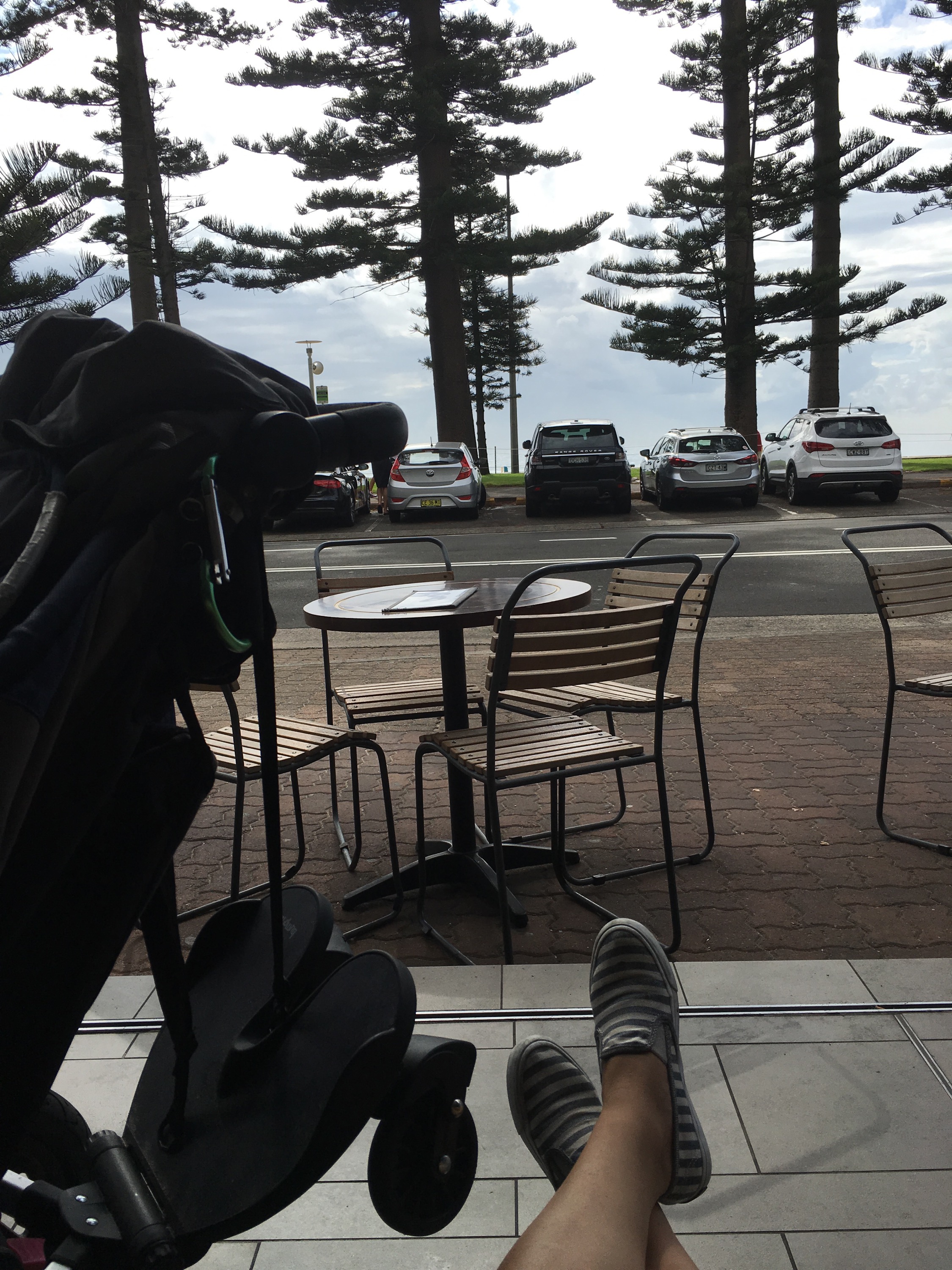 And since in Australia you pay a fortune for kindy you bloody well can do whatever you like with your "time off". So I had coffee at Novotel and enjoyed listening to the ocean and relaxing 😛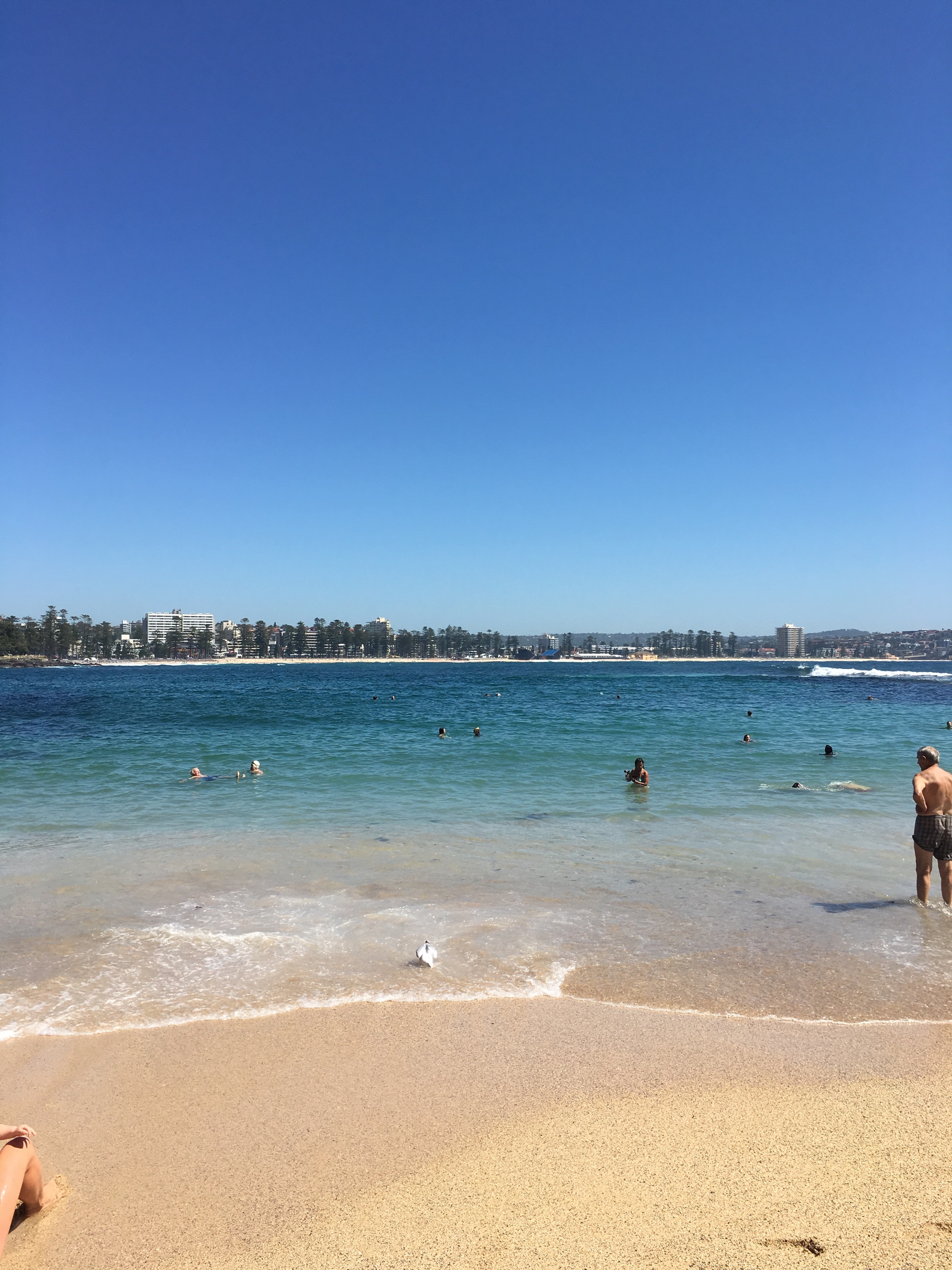 But most of all we have been at the beach. Every day E wakes up and yells that she wants to go swimming and preferably swimming in the ocean (bada i havet in Swedish). So in the ocean we have been, a lot… above is Shelly Beach. Too many beaches so little time…
And finally we did decide to go for another around the world trip. Its a new year and we needed a new goal. This time as a 4 person family, "only" for 3 months and of course with a much slower and family oriented schedule. But we are still doing it, some things are ready, some are not. I am just taking the leap again and trusting that the universe will help us with the final details. People say to aim lower, people say settle and be content, people say you can't have it all.
Well, I say screw that 😛